They crossed the ocean the first time in 2010 to bring home this sweet young man, Koyla.
They crossed the ocean again only a few months ago to bring home another boy who wanted a family. At the last minute fear took over and he said no. The draw of his friends and the terror of the unknown prevented him from taking the utterly free gift that was offered.
He said no.
Heartbroken they came home.
They were burned and saddened and financially tapped out.
They came home to cry and heal and forget about oceans and airplanes and international adoptions.
But God.
And one picture.
A little girl across the ocean begging for a family.
A precious treasure who is facing transfer any day.
One picture and their world turned upside down.
They had a choice. They could say no. They could say maybe but hold off in order to raise the money. They could drop everything and cross the ocean now.
The terror of rejection whispered "no".
The reality that their pockets were empty whispered "wait".
The Holy Spirit whispered "GO" in their hearts.
They are going.
The cliff is unbelievable steep.
Since their dossier was ALREADY IN COUNTRY - They only needed to add a paper or two and they were good to go back. They received an appointment almost immediately. That has left them mere weeks to raise $32,000.00.
Normally adoptions in that country do not run that high (Aaron's cost $30,000.00 but his was not normal). But a huge soccer tournament is happening at the same time they are crossing the ocean and where Taylor is located is right smack in the middle of where the tournament is going to take place. Apartment costs are skyrocketing and food prices are going to be outrageous.
The bill is enormous.
It is stunning. Shocking.
But this little girl wants a family.
She doesn't care about soccer tournaments or the high price of plane costs. She wants a Mama and a Papa. She will be thrilled with an older brother. She is tired of watching every other child in her groupa being picked while she has been left behind. She doesn't want to be transferred.
Taylor wants a family.
They want her.
And God is making a way.
Here's the deal.
So far the Dewberry's have raised about $11,000.00.
They need to raise $22,000.00 more.
They are traveling in 11 days!!
IMPOSSIBLE...
Get this...
An anonymous donor has stepped up and has offered a
$5,000.00 matching grant
PLUS their employer will MATCH that grant with another
$5,000.00
.
DID YOU READ THAT???
THAT IS $10,000.00 IN MATCHING FUNDS.
All we need to raise is $10,000.00 and the Dewberry's will just about be FULLY FUNDED!
$10,000.00 to get $10,000.00 in 10 days!!
TEN for TEN in TEN days!!
CAN WE DO IT??
Every 10 you donate becomes 20.
Every 50 you donate becomes 100.
Every 100 you donate becomes 200.
Every 500 you donate becomes 1000.
It is a LOT of money to raise in 10 days.
Will you help?
I don't have a Giveaway here.
We didn't have time
.
UPDATE ... UPDATE.... SEE BELOW!!!
Anyone want to donate an iPad or Kindle... I'm sure that will help encourage donations!! Let me know...
There is a Giveaway on the
THIS BLOG.
so if you donate make sure to go over and leave a comment!!
You can donate in a number of ways (all are tax deductible)....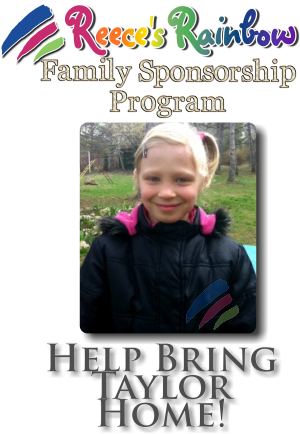 or
or
No matter where you donate.... make sure you leave a comment on
HERE
to let them know you donated so you can be entered into their Giveaway.
AS WE HAVE SEEN BEFORE... EVERY SINGLE DONATION MATTERS...
BIG OR SMALL.
PLEASE HELP LOVE TAYLOR HOME!!
TEN for TEN in TEN days!!
THIS ENDS JUNE 15TH!
----------------------------------
BREAKING NEWS....
-------------------------------------
A GINORMOUS GIVEAWAY HAS BEEN BEEN THROWN INTO OUR POT!!
AN ANONYMOUS DONOR HAS OFFERED A $1,200.00 GIFT!! THE NEW MACBOOK PRO!!!!
The new
MacBook Pro laptop
.
13". With quad-core Intel Core i7 processors, AMD Radeon graphics, ultrafast Thunderbolt input/output, and FaceTime HD camera. valued at $1200
How to enter:
Donate $10 or more to the Dewberry's adoption fund through one of the above links and leave a comment saying you did so. You can leave a comment here or on my dear friend PATTI'S BLOG... Either way you WILL be entered to win!!!
Blog about the giveaway and leave another comment linking to your post for another entry.
Link to this giveaway on Facebook or another social network and leave a comment for another entry.